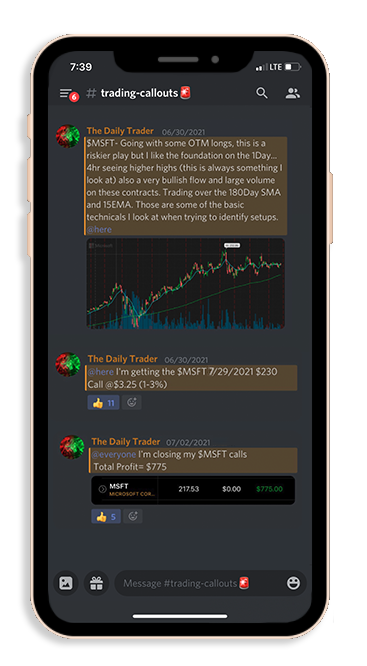 What's Included in
The Private Mentorship Group Discord Server?


📈 One-Time Purchase Lifetime Access
✅ Trading Callouts so You can make
Money when I do
✅ 1on1 Mentor Consulting with The Daily Trader Himself
✅ Daily Pre-Market Watchlist and Stock & Crypto Analysis
✅ Get Your Trading Questions Answered
✅Learn how to Trade Stocks & Crypto
✅ Live Trading Calls
✅ Experts Available 24/7 to Help You Out
✅ Frequent Trading Tutorials and Tips
✅ A Supportive Community of Traders Making Money Together
✅ Trade Alongside 6&7 Figure Traders
✅ Full Access to Current and Future Courses Free (Market Masterclass)
What will you learn?
You will learn what it takes to become a Million Dollar Trader by implementing my Trading System. The goal is to become one in the minority of traders, those who are profitable. You will have the ability to work with myself, along with other experts in the field. You will learn how to implement the exact Trading System which I use to find consistent profitability within the market. This system will be broken down step by step through a series of video lectures within the Market Masterclass. I'm going to help you develop a third eye when it comes to looking at charts and trading the market. Approaching markets with this new perspective will help you grasp what almost everyone fails to accomplish. This being a bank account beyond comprehension and a life where you have the freedom to live as you please.
Who is this
Mentorship for:
With this Mentorship my whole goal is to help you get through the learning curve with Trading as I truly believe that this stage is the biggest roadblock and where most people who try Trading fail. After you have your first profitable trade, it often becomes exponential as you begin to understand why things work the way they do. This is why I created this Mentorship & Market Masterclass. I try my best to connect all the dots for you and show you what you actually need to do in order to succeed with this once in a lifetime opportunity!!
Testimonials:
These are screenshots from Members currently enrolled in the Mentorship Group. As you can see it's possible for anyone to make money Trading. Some of these students have only been with us for a few days and are already seeing 50%+ portfolio gains. These results don't come as a surprise. This system is proven to achieve results as it has made myself and one of first students over 7-figures in the market. Not to mention has made dozens of my other students 6-figures+ in net gains.
⚠️ PRICING *WILL* INCREASE AS MORE VALUE GETS ADDED TO THE MENTORSHIP AND AS MORE MEMBERS JOIN. LOCK IN THE TODAY'S PRICING AS PRICING HAS ALREADY INCREASED.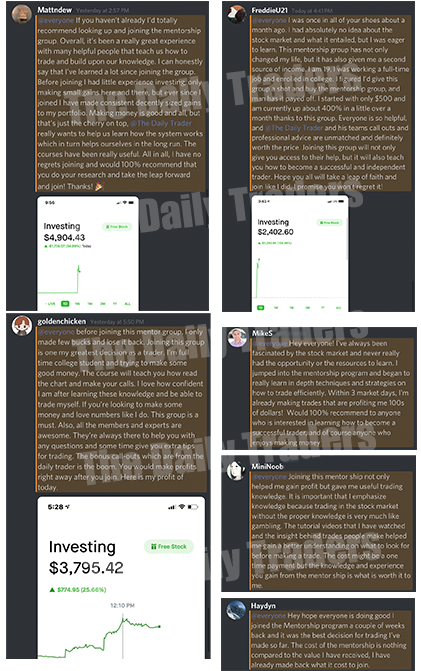 The Secret to becoming a Successful Trader. Learn what the top 10% of Traders know that the other 90% don't.
📲 Breaking Down My Profitable Trading System
📈 How To Find and Scan for Winning Stocks
🔑 My Secret Trading Formula Using Strike Rate, Risk/Reward & Position Sizing
💸 Trading Setups, Patterns & Trends
💡 Mastering Trading Psychology
⚖️Mastering Risk Management
💰 Mastering Technical Analysis 
🤑 Creating a Trading Plan & Trade Journal
🔬Developing A Third Eye for the Market
⛓️ Trade Options like an Expert
🚀 Setting Goals for Success
👨‍💻 Trading Live- Entry/Exit & Full System Breakdown
📊 How to Correctly Trade Moving Averages
🔧How To Create Effective Watchlists
📝 When To Take Profit or Cut for a Loss
🌎 Direct Assistance throughout your Learning
🚦 25+ 4K Video Lesson
✅ You are one click away from joining the top 10% of profitable Traders!
*No Experience Required*
See you soon!
-The Daily Trader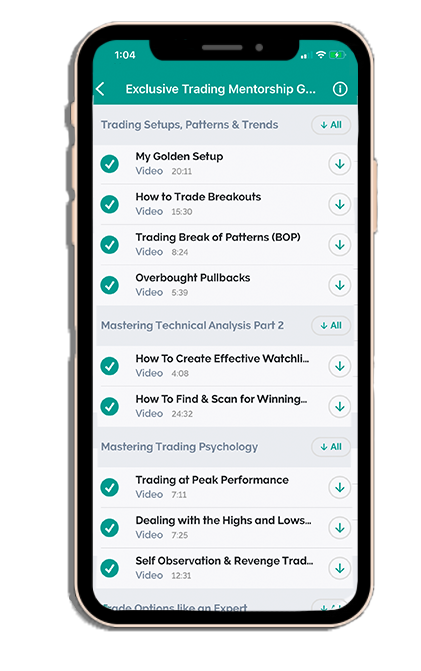 Peek Inside the Masterclass
Copyright 2022, All Right Reserved.


NOTICE: This site is not a part of the FacebookTM website or FacebookTM Inc. Additionally, this site is NOT endorsed by FacebookTM in any way. FACEBOOKTM is a trademark of FACEBOOKTM, Inc.
Earnings Disclaimer: No Earnings Projections, Promises Or Representations. **NO REFUND POLICY.**


DISCLAIMER: Results listed above or in my marketing material are not typical and are the result of years of training, experimenting and learning from mistakes. These figures and results are used specifically as examples. Your results will vary depending on a wide variety of variables and factors. You recognize and agree that
RUMFORD CAPITAL GROUP INC (The Daily Traders)
have made no implications, warranties, promises, suggestions, projections, representations or guarantees whatsoever to you about future sales or results, or that you will earn any money and that
RUMFORD CAPITAL GROUP INC (The Daily Traders)
have not authorized any such projection, promise, or representation by others. You must obtain advice on taxes (affiliate marketing taxes, sales tax, income tax, business taxes, etc.) from a tax professional. You must obtain business formation, legal and patent advice from a legal professional.
RUMFORD CAPITAL GROUP INC (The Daily Traders)
take no responsibility for any information given that falls under those categories. You accept that
RUMFORD CAPITAL GROUP INC (The Daily Traders)
IS NOT a tax or legal professional. You must consult a legal professional for advice on these topics.
RUMFORD CAPITAL GROUP INC (The Daily Traders)
make absolutely NO guarantee of success, monetary or otherwise, and
RUMFORD CAPITAL GROUP INC (The Daily Traders)
take no responsibility for any time or money spent in relation to this Course, DISCORD server, products, advertising, my assistance or otherwise. Only one person may access the course and DISCORD server per purchase. If a user is seen allowing others to use his account to access the course or DISCORD server, that person will be removed from the course and DISCORD server without a refund. You may not share this information with others not enrolled in the course. If you are found uploading these videos or sharing information anywhere else, you will be removed without refund. Results may vary. Accept that although you follow this course, you may not receive the sales or income desired.
RUMFORD CAPITAL GROUP INC (The Daily Traders)
is not responsible for your well-being or your income.
Any investment decision that results in losses or gains made based on any information in this DISCORD server or related services is not the responsibility of RUMFORD CAPITAL GROUP INC (The Daily Traders). RUMFORD CAPITAL GROUP INC (The Daily Traders) is solely a trading community, an educational provider and not a financial service.